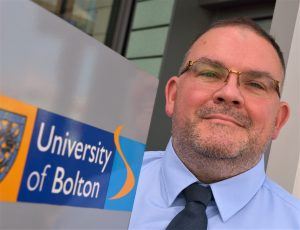 An associate teaching professor at the university has won a prestigious national teaching award for excellence. Dr Duncan Cross has been named a National Teaching Fellow in an announcement from Advance HE on 5 August, where a total of 54 new NTFs were announced. The National Teaching Fellowship Scheme (NTFS) showcases the outstanding impact of individuals who teach or support learning in UK higher education and provides a platform to share the learning from their practice.
Dr Cross said: "I am absolutely honoured to be awarded a National Teaching Fellowship. It recognises work I have done over a number of years that would not have been possible without my colleagues or working with our fantastic students."
Dr Kondal Reddy Kandadi, Deputy Vice-Chancellor, said: "It is great news that Duncan has been named a National Teaching Fellow and demonstrates the high level of expertise in teaching that we have at the University of Bolton. On behalf of everyone at the university, I offer my most heartfelt congratulations to him."
Alongside the NTF announcements, the 15 winning teams in the Collaborative Award for Teaching Excellence were also announced.
On the award announcements, Alison Johns, Advance HE's Chief Executive, said: "Congratulations to all our 2019 winners of these prestigious, national awards. Becoming a National Teaching Fellow or winning CATE team is a huge achievement. It can be truly life-changing."
Winners will receive their awards at a special ceremony on 16 October in Manchester.