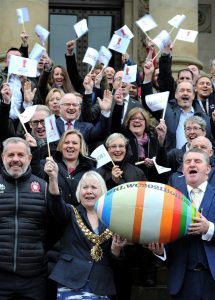 After a high-profile campaign partnered by the university, the Rugby League World Cup is heading to Bolton in 2021. The University of Bolton Stadium will host a significant group stage game, featuring England, and a quarter final match.
Prof George Holmes, President and Vice Chancellor of the University of Bolton, said: "This is wonderful news. The University of Bolton Stadium is a superb venue for such a prestigious tournament which has huge global interest and the university is proud to have been a partner in the bid."
The tournament will see 32 teams playing 64 games across 20 venues. It is expected to be the biggest Rugby League World Cup, watched worldwide by an estimated 150 million people across 115 countries.
Chief Executive of the 2021 Rugby League World Cup, Jon Dutton, added: "The University of Bolton Stadium is a fantastic facility and we can't wait to see it play host to an England men's group game and a Rugby League World Cup quarter-final."